Article successfully added.
Item Number:

284603

REF

HRFR292R 110V

UOM:

1
Numerous Trimmin g Possibilities The only trimmer capable of trimming the excess of the...
more
Numerous Trimming Possibilities
The only trimmer capable of trimming the excess of the panel or edge surfaces flat or at any angle, without changing the bit. Its wide base provides effective guiding and easy trimming. It offers numerous additional trimming possibilities, thanks to the unique tilting and adjustment system. Equipped with a powerful 750 watt motor with electronic speed adjustment and constant torque control for a constant motor speed under load. Comes with external dust collector connection.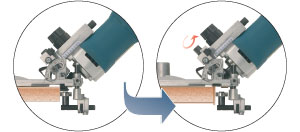 Easier, More Accurate Trimming, with the Special 90º Bit
The machine body can be tilted to approximately 46.5º, so that the edge of the bit is at 1.5º to the surface, preventing damage when trimming excess edges. Once the excess coating has been trimmed from the board surface (1), just position the bit at the level of the base to trim the excess edge level with the surface (2). By simply operating a single adjustment control, you can trim a further excess surface or edge.By tilting the machine to the horizontal position, you can trim 45º chamfered edges. You can also chamfer to the angle you require (Aº) between 0º and 45º, by tilting the motor body to the required intermediate angle (45º + Aº on the machine indicator)

Trimming the edge with the straight bit.
Trimming with the Straight Bit
The tiltable motor body permits the trimming of straight edges with the cylindrical bit as well as the excess surface. Excess panel is trimmed with the motor body in the vertical position, and edges with the motor body inclined to 91.5º, i.e. at 1.5º below the board surface, thereby avoiding damage.
Some examples of Trimming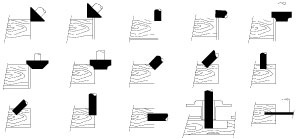 Specifications
Double insulation
Input power: 750 watts
Max. bit diameter: 25 mm
Chuck collet: 8 mm
No-load speed: 14.000 - 30.000 /min
Weight: 2.2 kg
Standard Equipment
90º bit for trimming and grooving (1140087)
Straight bit Ø 18 mm for trimming and grooving (1140016)
Chuck collet Ø 8 mm, copier with ball bearing, lateral fence with compass, service keys and transport carrying case.
No technical information available for this item.
Available Downloads:
Accessories